Civilization of Mayans is also called as Meso-American civilization which was present in Central America (which extended from Mexico to Cuba). Maya civilization started around 2000 BC and ended around in 1000 AD but still millions of people even today speak Mayan language. One of the team had found Mayan scripts as old as 400 BC and is considered as the oldest Mayan scripts.
They had good amount of contribution in mathematics which in turn helped them lot in astrological and astronomy subjects like calculating no. of days in an year, to develop the calendar, Solar eclipse etc.
Mayan Numerals:
Mayan people used the Vigesimal number system; i.e. to the base 20 (sometimes they used to the base 5). Base 20 was used probably they used their fingers of hands and toes for counting. The numerals consists of only 3 symbols: shell (for representing 0), Dash and Dot. Thus like Hindu numerals Mayan numeral system is considered very efficient as n numbers can be created with remembering very less symbols unlike Roman system. Concept of Mayan 0 is predicated to be originated around 36 BC.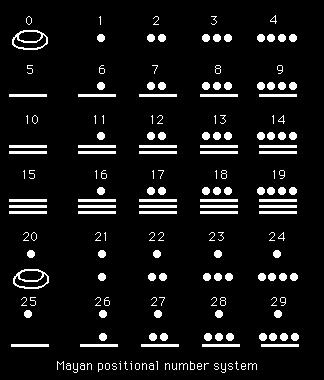 Their system was positional in nature but was correct only till tens place.
Example:
[ 9;8;9;13;2] = 2 + 13 x 20 + 9 x 18 x 20 + 8 x 18 x 202 + 9 x 18 x 203
[ 8;14;3;1;12] = 12 + 1 × 20 + 3 × 18 × 20 + 14 × 18 × 202 + 8 × 18 × 203 = 1253912.
Thus as observed till tens place, base 20 system works perfectly fine but from hundreds place instead of multiplying by 20 digits are multiplied by 18. It is assumed it is because initially Mayans considered 1 year = 360 days so they used 18 x 20.
Although they had no concept of fractions and division process was not to the mark still they could get very accurate astronomical readings. They could accurately understand the cycles of celestial bodies like sun and moon. Without using any astronomical instruments, just by using the sticks they were able to calculate almost accurate astronomical figures. They could measure the length of the solar year. (Their calculations produced 365.242 days, compared to the modern value of 365.242198), as well as the length of the lunar month (their estimate was 29.5308 days, compared to the modern value of 29.53059).
Although Mayans had 0 and place value system; though not very accurate; they had no influence on Europe and Asia because of their secluded geographical location.