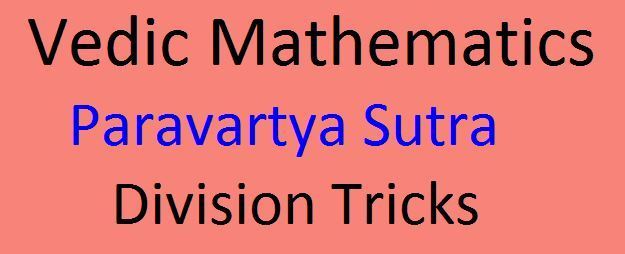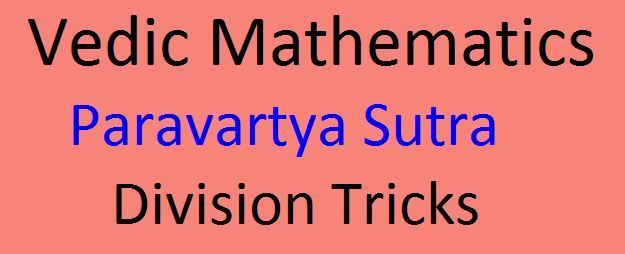 Paravartya Yogayat (Paravartya)
Division in Vedic Mathematics when Divisor is CLOSER and SLIGHTLY GREATER than power of 10.
Sanskrit Name:
         परवर्त्य योजयेत्
English Translation:
Transpose and Apply.
Prerequisites:
In this post I will guide you to shortcut to divide numbers using Paravartya Sutra. But before starting with Paravartya Sutra of Vedic Mathematics, below basic concepts are required.
Vinculum & Concept of Playing with Quotients and Remainders
Specific Condition Required:
Lets see the what Paravartya Division Tricks are required in this Sutra.
We apply this method when the Divisor is greater than power of 10 (10,100,1000, etc) and starts with 1.
(The Divisor Need NOT to be JUST GREATER than power of 10 since large digits(6,7,8,9) can be converted to smaller digits(1,2,3,4) using Vinculum. Also if Divisor starts with other than 1 then we can apply Anurupyena Sutra. (see in Anurupyena & Vinculum))
As the name (Transpose and Apply) suggests we change the sign and apply the changed number. i.e. Addition will be turned to Subtraction , Division will be changed to Multiplication and vice versas.
Remainder Theorem and Horner's process of Synthetic Division are small parts of Paravartya Sutra.
Also Check => More Division Sutras in Vedic Mathematics
Examples:
Discard the 1st digit(1) of Divisor(11) and take Transpose of remaining digits(i.e. -1 or Bar 1).
Split Dividend in 2 parts (Quotient & Divisor) in such a way that Remainder part should have same number of digits thus obtained in 1st step.Thus remainder part will have only 1 digit
Now carry the same process as done with previous (Nikhilam) method.
If any bar digit is present in final answer, convert to Normal method using Vinculum.
As seen instead of dividing we multiply and 11's 1 is turned to -1 (i.e Transpose and Apply).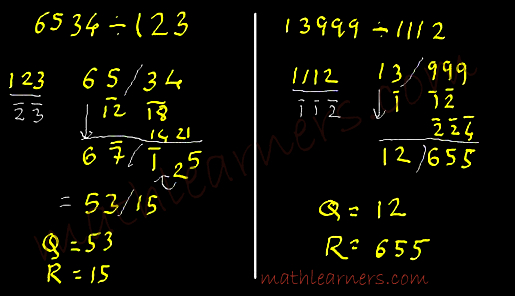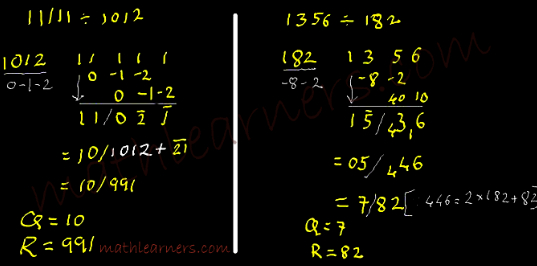 As seen from last example (1356/182), using same above method we had to multiply by 8(bigger number), hence we can  convert this bigger digit in smaller using Vinculum Division Method.
Here, using Paravartya Yogayat Sutra Division, we obtained answers in terms of Quotient and Remainders, we can obtain answers in decimal format also using the same process discussed in Nikhilam section of Division. HomeWork

What You Think ????
[fb_button]
How the following examples can be solved using Paravartya Sutra !!!
1) 239479/1203
2) 5644/116
3) 6348/178
4) 34565/128
Subscribe us for regular updates